University of Lincoln's Extra Sonic Practice Research Group presents a listening session and conversation with Pedro Oliveira, focused around his 2021 composition 'DESMONTE (To Become Undone)'.
Pedro Oliveira is a sound artist and researcher whose work inquires the articulations of colonial (sonic) violence perpetrated on the borders of the EU. He is currently a fellow of the Junge Akademie der Künste Berlin under the program "AI Anarchies," and holds a PhD from the Universität der Künste Berlin.
'DESMONTE (To Become Undone)' is a performance for pre-recorded voice and live electronics, a study on the limits and failures of machine listening and what makes a voice "human." The piece rehearses a disconnection of the body from colonial notions of origin and citizenship, by constantly de- and re-constructing the voice (mis)using spectral techniques similar to those found in the so-called "dialect recognition software" – a proprietary solution in use since 2017 by the German migration authorities in cases of undocumented asylum seekers to enforce deportation. DESMONTE is entirely constructed with and through the voice of Brazilian death metal singer Fernanda Lira (Crypta).
This listening session is part of Sounding Borders, a series of public events including performances, workshops and discussions that question how borders are shaped, controlled and embodied through sound.  Sounding Borders is supported by PEARL and Decolonising at Lincoln.
This event will take place in the Screening Room (Room ATB2120, Alfred Tennyson Building, University of Lincoln). This room is on the 2nd floor and accessible via lift or stairs. Accessible toilet facilities are available on this floor. For further directions and transport links, see our campus map and travel information.
Please note that the event may contain loud sounds.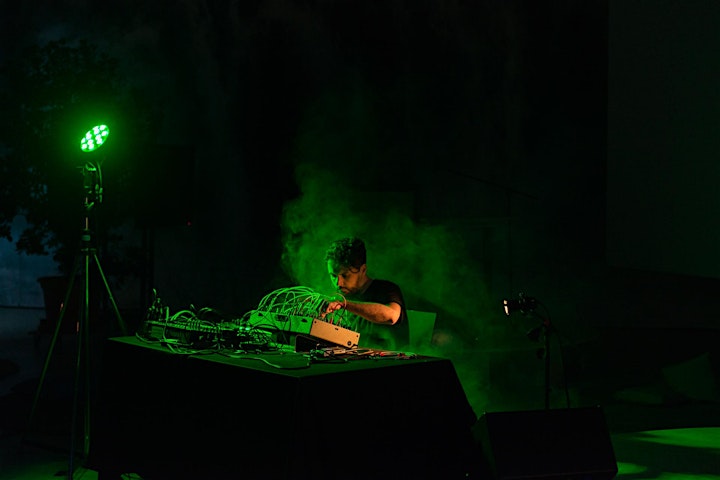 Photograph of Pedro Oliveira by Florian Model